Posted on May 25th, 2023
by Nomer Caceres.
Posted in News –
<!–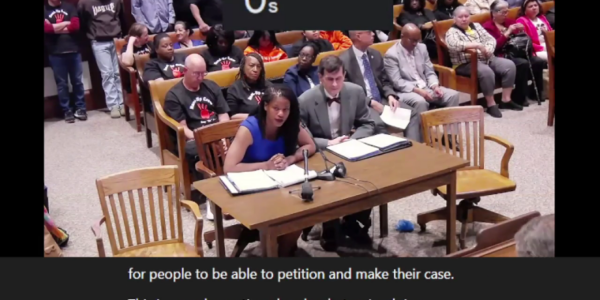 —
MassLandlords' Executive Director Doug Quattrochi testified at the May 9 hearing against eviction sealing. Surprisingly, small and mid-sized landlords seemed at odds with the Greater Boston Real Estate Board, who sat alongside Senator Edwards in supporting the HOMES Act, a proposal that eviction records be sealed. Eviction sealing would make it harder to identify applicants who are coming off an eviction with their prior landlord.
Renter advocates say eviction sealing is necessary because not all landlords read and understand the court records, and therefore unfairly dismiss some applicants for rental housing.
A coalition of all the usual renter advocates appeared to support the HOMES Act, including CHAPA, Harvard Legal Aid Bureau, the Massachusetts Law Reform Institute, the Massachusetts Coalition for the Homeless, the Alliance of HUD Tenants, the Metropolitan Area Planning Council and the Somerville Office of Housing Stability. Unusually, others whose roles seem less clearly pertinent also testified, including the Massachusetts Catholic Conference, Attorney General Andrea Campbell and Suffolk County District Attorney Kevin Hayden. A total of 107 were registered to testify at the hearing, but most spoke on another topic.
Despite apparent support, this hearing indicated that the HOMES Act may be foundering. Senator Edwards attempted to address comments made in MassLandlords' written testimony, but was cut short.
She started, "This system [MassCourts.org] was not set up to allow people to screen out and discriminate against individuals. One of the ideas proposed is that we should somehow make people with eviction records a protected class. That literally means…