Are you planning to buy a house? If yes then, you would have planned your investments and saving in line with the "Cost of the house", you are looking for. But, when we buy a house, there are so many other events/costs which comes during or after buying the house which we do not plan well beforehand.
In this article, we will look at various things where we might have to spend money for. If you are planning to buy a brand new house, this article will give you a good direction on how to plan out your finances.
List of expenses associated with the purchase of a new home
 1) Stamp Duty
Stamp duty is a tax, levied by the state government on every transaction of property i.e. buy and sell, whether it be commercial or residential property. As it is levied by state govt. the rate varies from state to state. It ranges from 3% to 10%, depending on the slab decided by the particular state (in Maharashtra it is 5% of market value or agreed value of property whichever is higher).
Stamp duty is calculated on the higher value of any of the following:
The ready reckoner rate also known as circle rate/market value which is predefined every year by state government for every town, state or village, or
The agreement value of property. For example, if the agreement value of a property is Rs 50 lakhs and the value according to the ready reckoner rate is Rs 40 lakhs, then, the stamp duty would be calculated on the higher value, i.e., Rs 50 lakhs.
2) Registration cost
For registering a property on your name, the state government will charge you a registration fee. It varies from state to state. But most of the cases it is 1% of Market value of the property. Registration fee is lowered if the buyer is a senior citizen or a woman. In most cases, the builder will add this cost when they quote the house value to you.
3) Interior Cost
When you get the new house, its the bare minimum house with walls, electric points. It's your job now to furnish it and decorate it as per your taste.  So, it is suggested to consider the cost that you may need to spend on interiors. And if you want to do marble flooring, designer wallpapers, texture paintings on wall, chandelier, modular kitchen, etc… the interior cost will tend to go up.
4) Advance maintenance fee 
When we move to a new house, and if it is in a newly constructed project, usually we are asked to pay a maintenance fee for a year or two by the builder. It can be a decent amount if you consider advance payment, so please consider that.
5) House warming party
When you move to a new house, you may feel like celebrating it with your friends or family. Some people may like to have a grant celebration or some may like to have a small party with close friends & relatives. So, the cost of house warming party varies from the taste of person to person, find out how do you want to celebrate it? And accordingly, plan for that cost separately.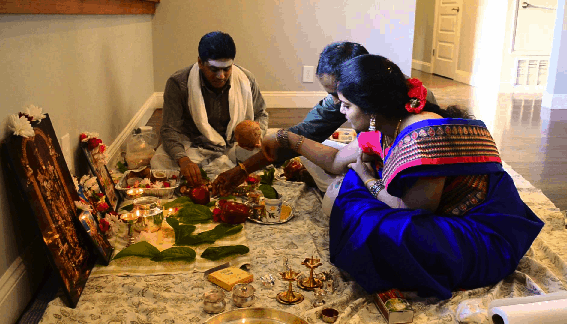 6) Furniture
Many people want to set up furniture before moving to the new house and some people do it after 2 to 3 years of moving in, which is also okay. So, if you want to move in, to furnished new house then, you will require to buy or appoint a carpenter to make your home furniture best suitable as per your needs and requirements. You need to be prepared for the cost of furniture such as sofa, bed, almirah, dressing table, dining table with chairs, shoe rack, study table, electrical appliances, etc… depending on your needs.
7) Additional charges in flat
Now, these costs are subjective, it depends on the needs of a family. These additional costs include a video security system and iron grill at the main entrance for security purposes, pigeon net if your new house is having open balconies and mosquito net for windows, etc.
8) Sinking Fund
Sinking fund is a cost, which you may need to pay, to the society you will be living in, every year for a certain period of time such as  5 to 10 years. These charges are paid by all the house owners in the society, so that society's huge maintenance cost, which can be for Lift maintenance charges, Building painting, clubhouse renovation, parking space, and building renovation charges, etc.
For example, if the lift of your building is not working and it requires 10 Lakhs to get repaired then it will be made from the sinking fund collected by society.
9) Small house alteration
Now, this cost again is subjective, it may change from person to person. Many people want to make some changes in the existing layout of the new house before moving. So, they will be needing extra money for this. Examples of small alterations are changes according to Vastu Shastra & creating storage space (storage room or shelf) etc.
10) Packers and Movers Charges
Moving your home stuff from one place to another can also cost a bit, especially if its an inter-city move. Do consider this cost as well when you are buying a new house.
Conclusion
For many of us buying a house is like achieving a huge milestone in our lives. When we plan our savings and investments according to, not only for the cost of the property but, also for other additional expenses to be incurred, then we will have more clarity & avoid the burden of so many expenses before buying our dream home.
And I would say around 10 – 20% of your house cost, should be kept aside to meet all these expenses. eg. if you are planning to buy a house of Rs. 50 Lac then additional 5 – 10 Lac has to be taken into consideration.
If anyone in your circle of friends and family is planning to buy a house, let them know about these additional costs. And also, if I have missed some points so please add in the comment section.